Facility Accreditation
When having surgery, you should always have it performed at an accredited surgical facility. Accreditation means that the surgical center is committed to providing high-quality health care and that it has demonstrated commitment to meeting high patient-safety standards. Atlanta Bariatric and Ambulatory Surgical Center is proud to have been accredited by MBSAQIP and AAAHC.
Metabolic and Bariatric Surgery Accreditation and Quality Improvement Program – MBSAQIP
Atlanta General and Bariatric Ambulatory Surgical Center has been certified as a Metabolic and Bariatric Surgery Accreditation and Quality Improvement Program (MBSAQIP). MBSAQIP works to advance safe, high-quality care for bariatric surgical patients through the accreditation of bariatric surgical centers. A bariatric surgical center achieves accreditation following a rigorous review process during which it proves that it can maintain certain physical resources, human resources, and standards of practice. All accredited centers report their outcomes to the MBSAQIP database.
Patients who have their surgery performed at a certified MBSAQIP surgical center can be assured that they have met the high standards required of their certification.
What does it mean to be AAAHC Accredited?

AAAHC, or the Accreditation Association means that the Atlanta General & Bariatric Surgery Center (AGBASC) participates in on-going self-evaluation, peer review and education to continuously improve its care and services. AGBASC also commits to a thorough, on-site survey by AAAHC surveyors, who are themselves health care professionals, at least every three years.
The AAAHC Certificate of Accreditation is widely recognized as a symbol of quality by third party payers, medical organizations, liability insurance companies, state and federal agencies and the public.
ASMBS (American Society for Metabolic & Bariatric Surgery) Certification of Excellence
The ASMBS fellowship certificate serves to recognize surgeons who have completed their training and who have met the educational requirement needed to practice safe and effective bariatric surgery.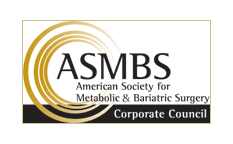 Our surgeons at Atlanta Bariatrics, Dr. Christopher J. Hart and Dr. William H. Johnson, have attained the prestigious ASMBS Certification of Excellence accreditation. When you make the decision to undergo weight loss surgery, experience is the most important factor. Experience leads to decreased complications and better overall results. It is vitally important that you choose a program that holds itself to high standards. We are primarily bariatric surgeons. This is what we do for a living.
Click below to learn more about: