Mary, patient of Dr. Hart
After years of yo-yo dieting and weight re-gain, I came to Dr. Hart after a trans-Atlantic flight.  One where I had to use a seatbelt extender and felt like a sardine in a can.   It was one of the most mortifying experiences of my life.   I knew I had to take control of my life.  I was 37 years old and already on blood pressure medicine, had high cholesterol and was pre-diabetic.  When I went to Atlanta Bariatrics for my consult, I was amazed and relieved by the level of compassion and knowledge I experienced there. I tipped the scale at 334 pounds, my highest weight ever. I constantly felt empowered by the knowledge and tools they were supplying me with.   March 12, 2019 is the day I consider my re-birthday—the day Dr. Hart performed my Gastric Bypass.  I have lost 155 pounds since my surgery, but oh what I have gained. I'm off my blood pressure medicine, my blood sugar and cholesterol are now normal,  I've run a 5K road race and I'm training for a half marathon, I have ridden all of the ziplines and roller coasters that I watched from the sidelines for years.   And, most importantly, the confidence I have gained in myself is truly the most amazing gift.  I credit Dr. Hart, Tracy and the whole Atlanta Bariatrics team with saving my life—though, if you ask them they are so humble and kind they'll say "we just gave you the tools, you did all the hard work."
---
Jim Radcliffe, Patient of Dr. Johnson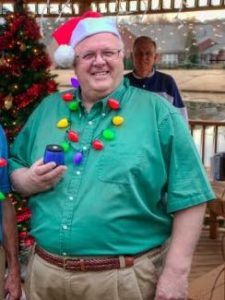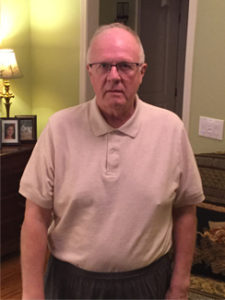 I have fought my weight all of my adult life. The past few years I noticed deterioration in my health from the excess weight I was carrying around. I tried numerous ways to loose weight. Most worked short term – but none lasted. Finally I investigated bariatric surgery. On December 14, 2015 Dr Johnson performed a gastric sleeve procedure on my at Northside Forsyth. At that time I weighed 377 pounds. A year later I feel much better and have lost a total of 143 pounds so far. It hasn't been easy, but not difficult either. It forces you to make the changes needed, and the weight literally melts off. The best part for me is now I know I'll be around to see my grand daughters grow up.
February 2017
---
Wanda Jordan, Patient of Dr. Hart
My story is a lot like many others. I was heavy from childhood and got heavier as each year passed. I had some times when I would lose weight but it always came back and more. I was having kidney problems and they were getting worse. I knew I had to do something to get the weight off. I knew if things didn't change, I could be headed for dialysis. Along with kidney problems, I also had diabetes, high blood pressure, and several more medical problems. I attended a weight loss seminar at Atlanta Bariatrics. After listening to Dr. Johnson and several others speak, I knew this is what I had to do to help my health. By the time I finished all of the health requirements and being approved by insurance, my surgery was set up It was the beginning of my new life. As of yesterday, I am down 117 pounds. I left the hospital no longer having to have any diabetes medication, my blood pressure has come down, and my kidney function has also gotten much better. In May of this year, I completed my first 5K race by walking it. I hope by next year I will be able to do a combination of running and walking. I am now able to work out with a trainer and work out in the gym. Dr. Hart did my surgery and I thank God for him everyday. He gave me back my life!
---
Mike Schlinkert, Patient of Dr. Johnson
After years of back-sliding in my journey to better health through weight loss (yet another chapter of many for me), I decided to let surgeons help. I've ignored my health. I regained weight that I lost several times over and my body begged for mercy. My knees, feet, ankles, blood pressure, physical exhaustion, and so on we're all clear indications that something had to be done. I researched a bariatric procedure called Vertical Sleeve Gastrectomy. I've researched and prayed about who to go to for the procedure and I made my choice. A group called Atlanta Bariatrics and Dr. William Johnson handled the surgery. It's a life long commitment with plenty of work. I weighed 433 at my initial visit. Surgery was Thursday Feb 21st, 2013 at Emory Healthcare Johns Creek. At my recent one year post-op appointment, I weighed 253 and have lost 180 lbs! I can't thank the fine folks at Atlanta Bariatrics enough for helping me with this journey and taking care of me when I needed it most!
---
Carol Coleman, Patient of Dr. Johnson
My journey begin at 302, I had hit my all time high and my all time low. I finally made the decision to take control of my life, because I was not living, never wanting to go anywhere or do anything with my family. My feet and my back where in so much pain I thought I might have to go out on disability. After researching weight loss surgery for a couple of years it was time to take the leap. I chose the gastric sleeve only because I was scared of messing with the intestines, so I prayed and ask God for direction and he lead me to Dr. Johnson and I met with him and asked if I could lose 100 lbs with the sleeve and he said yes, I might have to work a little harder than if I had the bypass but that was okay with me because I was determined to make it work. So July 19th was my surgery and I could have returned to work on day 8 but went back on day 15. It has been a learning experience and it has not been all easy mainly due to emotional reasons and learning to cope with issues without food. I did have a problem with optical neuritis which affected my right eye that they had to but me on high dose steroids in my 6th month which caused my weight loss to hold and maintain for 4 months, but as soon as that was out of my system I started to lose again and I reached my goal of 100 lbs lost 7 days before my 50th Birthday now at 202 lbs I feel fantastic!! my feet are fine, I still have little problems with my back but no where near what it had been. I thank Dr. Johnson for believing in me and in what he does, the only goal he set for me was to get healthy. Thank you Dr. Johnson and staff for everything!
---
Angela Pickens, Patient of Dr. Johnson
Did I want to live to eat or eat to live? That was the question that lead to my decision to have gastric sleeve surgery. I have struggled with my weight my entire life, but some life changing events that I endured in my late 20's really impacted my ability to control my weight. My highest weight was close to 300 pounds. I tried several weight loss programs and was somewhat successful. At one point I lost 70 pounds. However, the weight always came back. I truly admire anyone who is able to lose a large amount of weight and keep it off without surgical intervention. But for some people, it just doesn't happen. When I began to experience health problems because of my weight was when I really started thinking about other options. My father died of an unexpected heart attack at age 51. I was diagnosed with sleep apnea and high blood pressure at age 43. My feet ached all the time. I could not catch my breath. All I could think about was that I was going to die a premature death just like my father. My sister was the first person who encouraged me to think about surgery. She underwent a successful gastric bypass surgery which drastically improved her health. I began to research and ask lots of questions about the different types of surgery. After attending the educational seminar at Atlanta Bariatrics, I made my decision to have the gastric sleeve surgery. Dr. William Johnson and the staff at Atlanta Bariatrics were very helpful throughout the entire process, including helping me with insurance approval. The surgery is not exactly the "easy way out". There is a lot of physical and mental preparation before and after surgery. Dr. Johnson continues to stress that the gastric sleeve (or any surgery) is only a tool. You still have to commit to lifelong healthy eating habits and exercise. Though having surgery was a very personal decision that took much soul searching, my only regret is that I did not have it sooner. I am pretty sure it saved my life. My health problems have vanished and I feel great. The "before" photograph is the day before surgery, which was November 9, 2012 at a weight of 244 pounds. The "after" photograph is one year from surgery at a weight of 164 pounds.
---
Felicia Jones-Shaw, Patient of Dr. Johnson
As I am writing this I can't believe it has been just a year and I have lost almost 130 pounds! My before picture that you see is after my surgery at 245, but my highest weight before the surgery was a whopping 275 pounds! This was a lot of weight for someone that is barely 5'2. At 37, my age at the start of this journey, I had tried many diets, pills, trainers, and work-out regimens – all of which I would lose weight and gain back double or triple the amount of when I started. Right before having my surgery, I had spent six months doing almost 2 hours of exercise about 4 to 5 days a week, and I was pushing my plate back like so many people told me – but I was still gaining weight. It got to the point that my feet were always swelling to the point I could not wear shoes. I was a size 24 and MISERABLE! I went to my primary care physician to see what was going on with my body. After stress tests and a lot of blood work, he told me that I simple needed to lose weight. Well, I could have saved us both a lot of time, and me a lot of money for that news. So his plan – to put me on yet ANOTHER diet pill! Well, I was NOT having it. I knew my sister had a RNY (Roux-En-Y) about 12 years ago and she still looks great! I had always asked her did she have any regrets and her response was that she didn't do it sooner – something you will hear a lot from many weight loss surgery patients. For me, this was a big decision because I had never been cut on before or had any major surgery, so I was scared to death! However, Dr. Johnson and the staff of Atlanta Bariatrics were very patient and understanding with me. Dr. Johnson and I discussed all the procedures, my fears, and what I wanted to accomplish – realistically. So, I ended up decided to have the gastric bypass. One thing that I remember Dr. Johnson telling me is that the surgery was a tool and my success depended on the work I put in after the surgery – my diet and exercise. I never forgot those words – NEVER! I did my very first marathon I May 2012 and almost came in last place running and walking the entire time – but, I DID IT! I was so proud of my medal and t-shirt and I look forward to seeing how I perform in this year's 5K Scrub! Okay, so back to my story. Well, I was faithful with keeping up with my appointments, taking my vitamins, my diet, and doing lots of exercise. I started out just walking again after surgery in my neighborhood. After a few weeks, that walk around in circles became pretty boring – but my neighbors were watching and asking questions. I was happy to share what I had gone through because I knew in a year, things would be very different. After a few more weeks, I graduated to walking in parks and then started running. I love to run. My father and brothers were in the military, and my sister was an officer, so they would always take me running with them when I was younger. I must say that your body remembers because everything just started falling into place. This has been a long, hard journey – but I would do it again in a heartbeat to get where I am today. I am doing things I haven't done since my youth, as well as trying new things for the first time like parasailing and jet skiing! I am having the time of my life! All I knew was that I absolutely did not want to go into my forties still battling weight issues. I also just wanted to be healthy! The bonus is the outward appearance, but nothing beats coming off all the medications I was taking or all the trips to my doctor's office (just for them to say you need to lose weight). Like my sister told me, the only regret that I have now is that I did not take control of my life and do this sooner. Thank you to Atlanta Bariatrics for giving me a new lease on life!
---
Tammie Best, Patient of Dr. Johnson
I would never consider myself a small woman. In fact, looking over my adult life I would say that I was that pretty "big girl". I remember the first time that I realized that my weight was a problem. It was when I had gone to an amusement park and the ride attendant had trouble securing me in the seat; she actually called someone else over to help her push down on the shoulder straps hard enough for it to snap shut. "I was devastated". A few years later, I had my first ever medical scare. It was on my 32nd birthday. My husband took me out to eat at a very nice seafood restaurant and everything was good; that is until we got home and I found myself experiencing excruciating abdominal pains. I began to vomit everything that I tried to eat. Eventually drinking water became a problem and then I started vomiting bile. This leads to how I met Dr. Johnson and the staff at Johns Creek Surgery. I found out through my gastroenterologist and a few unpleasant tests that I had gall stones and was referred to Dr. Johnson; who immediately performed surgery to remove my gallbladder which had been plagued by half dollar sized gall stones. The case was so severe that the stones had actually torn my bile duct. During recovery I remember Dr. Johnson saying to me that he "had never before seen stones of that size". As I recovered from that procedure Dr. Johnson made several stops to my room to check up on me and to assure me that I would be fine. During one of his visits he began to talk to me about the "Lap Band". Usually I would immediately go on the defensive when someone talked to me about my weight problem, but this time; it was different. He wasn't looking at me with a judgmental stare; I could tell that he was genuinely concerned for my wellbeing and quality of life. Two years and my fifth child later, I walked into Johns Creek surgery ready for change. I had finally had enough of the tormenting dreams which told me that one day my grandchildren, if I lived to see them, would call me "BIG MOMMA". I wanted to go back to the amusement park and show that ride attendant that I could easily fit into the ride, I desired to hold my head up high unashamed. I yearned to be free. Free from disease, obesity, and shame. When I met Dr. Johnson I was close to 300 pounds. At my top weight I was 320 pounds. I walked into his office wearing a size 26W and today I wear a size 4/6 (regular). I am less than 30 pounds away from my goal weight. With Dr. Johnson's occasional chastisement of my behavior, the lap band, and the support from family and friends; it has taken less than 4 years to lose what took more than 20 years to gain. People are actually looking at me for inspiration! The thing that impressed me the most about Dr. Johnson is that he never looked at me with condemning eyes. I only experienced genuine concern. Dr. Johnson is more than my surgeon he is my friend. And the ladies at the office are all my sister girls. "I AM A JOHNSON BAND-IT"
---
Angie Cannon, Patient of Dr. Johnson
I am sure my story is similar to most of the people reading this. I have been over weight my whole life. I was always the big girl, the fun girl. I had done several weight loss programs prior to deciding on weight loss surgery. I lost 50 lbs. on Quick Weight Loss. I was at goal for a day. I lost over 100 pounds with Weight Watchers 2 different times. I could never keep my weight off. In 2007 I realized our health insurance covered weight loss surgery. So my journey began. I went to the introductory class given by Dr. Hart and Dr. Johnson. I learned the pros and cons of Gastric By Pass and Lap Band. I decided to have Gastric By Pass. I made all my necessary appointments, gathered all my paper work and scheduled my surgery. That is not as easy as it sounds. It took about 6 months. I scheduled my surgery for the first week in October 2007. 2 weeks before surgery I got scared and cancelled it. I rescheduled for November 7, 2007. I cried the whole way to the hospital. I could not believe I was so obese that I was getting and qualified for weight loss surgery. The day I went in for surgery I was 305 lbs. I was miserable. I had the surgery. Everything went well. I spent the night in the hospital. When I came home, the next day, I felt like I had been kicked in the stomach by a horse. But that was the only pain I had. When I woke up the next morning I freaked out. I could not believe what I had done. "I was so fat I had to cut up my insides." I knew in my head I had researched it, went to counseling, I knew this was what I needed to do. This feeling lasted about a week. It has been over 5 years since I had my surgery. I am so glad I had it. I am now so athletic. I run 15-25 miles a week. I lift weights 2-3 times a week. When the weather is warmer I road bike 25-75 miles a week. I try to play tennis 2 times a week. I used to look for an injury so I had an excuse not to exercise. Now if I do not exercise I go Crazy. I cannot wait to get up in the morning and go for a run or ride. I don't even stop if I am injured now. I am over 5 years out and at my lowest weight ever. I weigh 172 and actually have some size 6 jeans and shorts. I am so glad I had Gastric By Pass. It has changed my life.
---
JR Bolden
I just celebrated my 6 year anniversary and I feel great. Prior to lap-band surgery my weight fluctuated but not from fad dieting. I would start a work out regimen get bored and then stop only to start again. At my heaviest, I was 224 pounds on a 5ft frame. Well, just before my 40th, I decided I needed to have the lap-band surgery. Now, I'm proud to say that I'm a BARIATHLETE. Most of my mornings begin with a 5:00 AM run and ends with an evening run or some other type of work out such as tennis, swimming, or CrossFit. Over the last 6 years, I have competed in so many 5k and 10k races that I have lost count. I have competed in more than a dozen half marathons, two full marathons, and two sprint triathlons. My 3rd full marathon is scheduled for January 2014 and I'm currently entertaining an ultra-marathon for late 2014. Because of my passion for running and fitness I have become a running mentor. I'm currently coaching others in their pursuit to become runners.
---
Amy, Patient of Dr. Hart
Dr. Hart is a top notch first rate five star surgeon. I couldn't have been in any better hands. He is very quiet and reserved but very knowledgeable and super dedicated as well as a talented surgeon. He is very open and will answers any and all questions. He answered all my questions before and after surgery to my satisfaction. He has a very calming effect on you. I was nervous before surgery. He was very kind and reassuring. My stay in the hospital was also great. He checked on me and I felt very well taken care of. I had some complications after surgery when I got home (no fault of his). I was allergic to the internal stitches but after one call he had me on antibiotics and he called me a few times to check on me. He worked me in one day and removed the stitches. Great great post surgery care. I also like that he wants to see you EVERY year after surgery around your surgiversary. He wants to make sure you are doing well and it keeps you accountable. I LOVE that! His office staff is also awesome. LaTonya is wonderful and helped us immensely with the insurance. His scheduling nurse Cyndi was just as great. She really worked with my schedule to schedule my surgery around my hectic life. His dietician Tracy is just wonderful. I can email her anytime. She has been a great help and lifeline to me at times. I just can't say enough about Atlanta Bariatrics. I would highly recommend them and especially Dr. Hart. After my surgery I had to do a swallow test the check for leaks. That's just standard procedure. When the technician asked me who did my surgery and I told him Dr. Hart. His words as he looked at my test…Just pure perfection. I would agree. Having surgery was the best decision I have ever made and choosing Dr. Hart to be my surgeon was the 2nd best decision in my weight loss journey. I am down 125 pounds and have reached my weight goal loss..actually I exceeded it. Off all of meds and a healthy BMI. I feel like a different person and I have my life back. My life back as a normal BMI and healthy weight life back. Dr. Hart told me its about health and a healthy BMI. He is realistic and just wants you to be healthy not have the body of a Victoria Secret model. He told me NO MORE DIETING after I reached my goal. I thought he would fuss at me because I wanted to lose more! He told me to eat healthy and exercise. I asked him if could get that in writing. LOL! He said he was so happy for me. And I really believe he means it. He cares about the patient's health and success. Once again, I would highly recommend Dr. Hart and Atlanta Bariatrics. They are just wonderful. Pre op and post op. I have no complaints and only high praise for them. They actually probably saved my life. And for that, I will be forever grateful! 🙂
---
Carolyn Willis, Patient of Dr. Johnson
In 2010 I was diagnosed with Gastric Paranthesis. I really was in bad health – 100+ pounds over weight and no end in site. I felt overwhelmed and the weight felt daunting. After going to the "look/see" meeting to be educated about Bariatric surgery – I was sold. Dr William Johnson was brilliant in the explanation of where I was in my life and my options. This surgery was the best decision I ever made for myself. A few things you need to know: (1) This is NOT a "Be Skinny All Your Life" Card and you get to skip Go. This is still a lifestyle change. You just get a FAST jump start and quick results. (2) Mentally, emotionally and spiritually prepare for the change. Beauty is NOT defined by thin. We all hear it, try to believe it and claim it….but down deep – do you? Because when you get skinny and someone says you're "beautiful" – it does not re-define you! You're always beautiful…people just take time to notice now! (3) The palm of your hand is your best friend with meals – don't ever eat more than the palm! (4) Protein, protein, protein – this will help with hair loss. (5) I'd travel the world and talk about this surgery. I still enter a room with an obese mind – not that I look it, but I recognize the looks on people's faces when they see me. I hurt with them as they hurt. If I had cancer in my finger, I'd want my arm cut off – so why not cut my stomach since it is more likely to kill me than cancer – Obesity! I'm still all me…every ounce the same person, same personality. I don't hide my photos from the past – they are me and who I was for 40 years.