What is Robotic Surgery?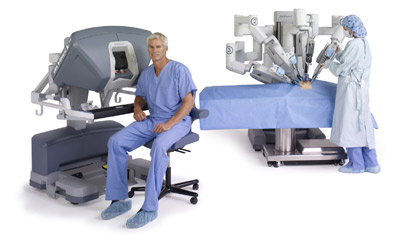 If your doctor recommends surgery to control your weight, you may be a candidate for da Vinci Gastric Bypass, potentially the most effective and least invasive option for weight loss surgery. da Vinci Gastric Bypass allows your physician to provide the gold standard surgical treatment for weight loss using only a few small incisions.
da Vinci Gastric Bypass provides your surgeon numerous technical advantages — including improved ergonomics, better visualization and instrumentation. These advantages may allow him or her to provide you a minimally invasive surgery even if you are extremely obese. da Vinci robotic-assisted Laparoscopy has also proven to shorten procedures time and significantly reduce the risk of serious complications when compared to conventional Laparoscopy.
Similar to conventional Laparoscopy, da Vinci Gastric Bypass may also offer numerous potential benefits when compared with traditional open surgery, 3 including:
Significantly less pain
Less blood loss
Less scarring
A shorter hospital stay
And a faster return to normal daily activities
As with any surgery, these benefits cannot be guaranteed, as surgery is both patient- and procedure-specific. While da Vinci® Gastric Bypass is considered safe and effective, it may not be appropriate for every individual. Always ask your doctor about all treatment options, as well as their risks and benefits.